Sports Betting For Montana Residents
Montana officially launched sports betting in March 2020. With the launch, residents and tourists alike in the Treasure State have access to land-based sports betting some of their many casino operators. Sports betting in Montana has been a long time coming as Montana was amongst the first states to legalize state-sanctioned sportsbooks following the abolishment of PASPA, the countrywide ban on regulating sports betting. Montana may have been late to the fold with actually launching sports betting however the launch allows for multiple ways Montana sports bettors can get in on the action.
The Montana Lottery Commission is overseeing all sports betting within the state. With sports betting launched, both land-based and online sports betting is regulated giving Montanans many ways to play. With with the many gaming kiosks installed, sports bettors are able to wager up to $250 and up to $1,000 at the state-sanctioned Sports Bet Montana app. The only drawback is that the app only works when at a physical sports betting operator, meaning sports bettors can only place online bets from inside a licensed casino.
There are options for those who wish to wager online without traveling to a land-based operator, and that is through other online sports sites. These sites allow for top-notch high stakes sports betting without the need to travel. At these online betting operators, you will find the same betting lines and odds that would be found at a land-based Montana sportsbook. If you are looking to bet on sports from your mobile device, these sportsbooks are compatible with most smartphones and tablets. There is seemingly no limit to sports betting in Montana.
Best Montana Sports Betting Sites - 100% Trusted + Safe
| | | | | |
| --- | --- | --- | --- | --- |
| | | 50% Up To $250 | VISA + Wire Transfer | |
| | | 50% Up To $1,000 | VISA, Bitcoin, Cash Wire | |
| | | 50% New Member Bonus! | VISA, Bitcoin | |
| | | 100% Up To $300 | VISA, Bitcoin | |
| | | 50% Up To $1,000 | Bitcoin, Wire Xfer, VISA | |
Legal Sports Betting Sites Accepting Montana Residents
Online Sports betting for Montana residents is not explicitly prohibited under the Montana State Code, but it has not launched in the state, either. Because of this seeming "grey area," there are a number of various sports betting sites that will allow you to participate in the games.
We have tested out these sites to make sure our readers would be totally safe at these sites. In addition to operating outside of the purview of Montana law, these sites are licensed, insured, and regulated in their home countries, and over the past two decades or more, over a hundred thousand MT residents have called these top-quality sportsbooks home.
Provided you use one of our trusted sportsbook services, you will never have to worry about breaking any local (or federal) laws, and you will never have to worry about being ripped off by your bookie.
Bovada - The Worlds Number One Sportsbook

If you are searching for a safe and legal sportsbook in the Treasure State, look no further than Bovada. It's a fully licensed sportsbook that accepts Montana residents. With its bounteous bonuses and promotions, it's a real discovery! Any state resident at least 18 years of age or older will be welcomed by Bovada with open arms.
When you join Bovada, you will receive a 50% sportsbook welcome bonus as soon as you make your first deposit worth up to $250. So, let's say you want to bet on the Bobcats. Half of your initial bets could be free! Bovada has some of the most extensive betting lines you'll find anywhere, not to mention mobile and live betting. Signing up is as easy as creating an account and depositing some money. Bovada's deposit and payout methods are fast and reliable. It would be silly for any sportsbook fan not to take advantage of Bovada's great offers.
SportsBetting - Don't Just Watch Sports, Bet Sports

We know that Treasure State residents are always happy to find the old "oro y plato." Well, guess what? SportsBetting is the motherlode of online betting sites. As soon as you visit the site, you know you've hit the jackpot. SportsBetting's action-filled interface lets you know that you're about to join a world of fun. All Montana residents 18 years of age and older are encouraged to sign up.
If you are worried that signing up will be some sort of huge hassle, never fear. Creating an account is as easy as three steps. Step 1: Enter your name and basic information. Step 2: Create a password and a security question. Step 3: Enter your address and state information. Now you are ready to create your account and start betting on your favorite college and professional teams!
You'll even receive a 50% welcome bonus worth up to $1000 with promo code SB1000 just for joining. All you have to do is make a deposit. However, the bonuses don't stop there. Just wait till you try the mobile betting $50 free play, the $25 free live in-game betting option, and the 35% Crypto Reload bonus! Join now and be part of the action.
BetOnline - Full Casino, Horse Book And Poker Room

It goes without saying that Treasure State residents, living so far above sea level, are used to a high standard of living. That is why Montana residents deserve a sports betting site that is the very peak of perfection: BetOnline. It offers one of the very best sportsbooks in the online betting universe. There's no limit to how high you can climb when you join BetOnline, and there has never been a better time to sign up than right now.
BetOnline is open to all Montana residents, as long as they're at least 18 years of age. When you join, you'll be immediately eligible for the 50% Welcome Bonus, good for up to $1000. Simply use promo code BOL1000 when you make your first deposit and you're all set.
BetOnline also offers the Live Betting $25 Free Play, the Mobile Betting $50 Free Play, and the best MLB Dime Lines in the industry. BetOnline offers a choice selection of deposit and payout methods for your convenience, too, as well as friendly customer service in case you ever have a problem (which is highly unlikely, because BetOnline is top-of-the-line).
MyBookie - Prop Bets On Different Sports

MyBookie is at the top of their game when it comes to betting on different sports. For example, when betting on the NFL in Montana, MyBookie offers plenty of different player prop bets and team prop bets as well. There are also different NFL futures bets for Montana bettors to be able to bet on their teams.
Also on MyBookie, they offer tons of different bonuses and promotions for new and old customers to use. One of the most popular promotions for new users is their 100% match on all initial deposits up to $1,000. For existing users, they offer a 25% match on all other deposits. Both of these promotions do not require any promo codes at all.
Mobile Montana Sports Betting Apps
Sports Bet Montana is the only mobile sports betting app available in Montana currently. This state-sanctioned sportsbook allows for wagers up to $1,000. The only caveat with the app is that it only works from inside the sportsbook. This means that if you wish to partake in online sports betting in Montana, you will have to do so from inside a physical casino sportsbook. There is an alternative, with online sports betting sites. These sites are compatible with your mobile devices and bring the same betting lines and odds to you without the need to travel.
If you have an iPhone, Android phone, iPad, or other tablet devices, you can easily access your favorite online sportsbook's mobile portal simply by using your handset's or tablet's built-in web browser. This will redirect you to a customized mobile sports betting experience, where the odds boards are easy to browse, the layout is optimized for the small screen, and wagers and payments are just one tap away. Best of all, by using mobile sports betting for all your Montana sportsbook needs, you can actually wager on your favorite teams and players, no matter where in the state – or in the entire country – you happen to be. As long as you have a data connection, you have a sportsbook in your pocket!
Live In-Game Betting
All the top online Montana sportsbooks now offer live, in-game betting on all your favorite action, both from US sports leagues and international athletic competitions. However, live betting adds a huge number of potential wagers to your daily menu, as you can continue to bet on changing lines and odds all throughout any given matchup.
One popular live betting option that Montana bettors should be taking advantage of is live betting on the NFL. Those that follow football, know that a game can change at the snap of a finger. That being said, it gives bettors a second chance of redeeming themselves if the bet does end up falling through.
Because in-game wagering also works on mobile, you can bet during these matchups no matter where you are, from the sports bar to the park to the plains of Montana and beyond. Just remember to be quick on the trigger, as live odds are only posted for a few seconds at a time, and when they're gone, they're gone. So, if you see a line you like, jump on it!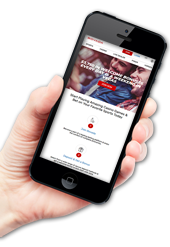 Mobile Sports Betting In Montana
Welcome, Montana sports bettors as we tell you how to place bets on your mobile devices. It's really simple, almost to the point of making this section dangerously short, so let's get it over with. Basically, if you're placing bets at an online sportsbook, they tend to eschew apps in favor of optimizing their websites for mobile browser use. So what does that mean for you? It means that if you want to place bets on online sites on your phone, you just use the browser, and the website will provide you with an optimized mobile experience with an app-like view. With the quick access available to bettors, it gives plenty of opportunities to bet on the NFL in Montana as well as many different sports.
Is Sports Betting Legal in Montana?
Montana Legalized sports betting in May 2019 after passing HB 725. The Treasure State did not launch sportsbooks until March 2020. Since the launch, however, Montana now offers close to 180 land-based sportsbooks in the state. Sports tab games and betting pools – which essentially operate as random-drawing lotteries – are also offered in the state, giving multiple ways for Montana residents and tourists to get in on the action with Montana sports betting.
Online sports betting through mobile devices was also legalized by the Montana State government alongside land-based operations. With the launch of sports betting, Montana also launched the Sports Bet Montana app that allows for localized mobile sports betting inside a betting casino, this is also operated by the state lottery. If you are looking for online sports betting without the need to travel to a physical casino, online sportsbooks give that option. Overseas books are exempt from any state laws due to being outside of US legal purview, so as of now, these are effectively your only current option for online sports betting anywhere in the state.
Montana Sports Betting & Gambling Laws
The gambling laws in Montana are slightly outdated, with commercial casinos being inoperative in the state. While Montana technically has a number of casinos, all of them are tribal ventures, and most of them are of the less-popular Class II variety. However, there are few Class III tribal casinos in Montana that do offer a wide gamut of traditional slots and table games and while sports tabs and pool-based betting has been legal for quite some time in the state, it wasn't until recently that MT HB 725 was passed by Governor Steve Bullock and effectively made sports betting legal.
Land-based sports betting in Montana officially launched in March 2020, nearly a year after the passing of HB 725. The launch brought both land-based and state-sanctioned mobile sports betting to the Treasure State. This means all residents in Montana have multiple regulating sports betting operators for them to partake in. Online sports betting without the need to travel is still very much left to online sportsbooks stationed outside of the US. This gives Montanans even more ways to get in on the action.
Legal Outlook For Sports Betting In Montana
The legal outlook for sports betting in Montana does seem to be promising. There were several bills that were introduced since the fall of PASPA, including MT HB 725 which passed and set the Montana Lottery as both the regulatory body and sole vendor of this type of gaming. On top of that Senate Bill MT SB 25 (was signed by Montana Governor Steve Bullock which would effectively revise the gaming laws and definitions of gambling within the state. There have been ongoing decisions on the best course of action for expanding sports betting in Big Sky Country even further, however, none of the proposals so far have looked to ban online offshore sportsbooks. That means that you will eventually have access to state-regulated sportsbooks, but you'll keep the option to be able to go online and place wagers on sporting events that are happening all across the world.
Legal Gambling Age For Montana Residents
If you are 18 years of age, you can start gambling in essentially all forms of Montana gaming. While other states will require you to be 21 before you can enter a casino, in Montana, you can jump right into the action the moment you become a legal consenting adult.
This age limit is the same when it comes to wagering on sports through Montana sportsbooks. To add to that, all legal offshore sportsbooks are available to use for those 18 or older, so there will always be plenty of options to wager when it comes to age in Montana.
Land Based Gambling In Montana
Because of the way Montana classifies "casinos," there are actually over 100 such venues in the state. Most of these are convenience stores and diners and the like, as anywhere that sells sports tabs and operates sports pools in the state receives this "casino" designation. But it's misleading, as the dramatic majority of these do not actually offer traditional table games or slots.
Even the state's Class II casinos have heavy restrictions on the type of gaming they can provide, though the state's few Class III casinos do offer a full suite of gambling amusements (with the addition of sports betting kiosks, which are coming to the state soon).
For more on land based gambling in Montana, we have set up several pages for Montana's gambling hubs, so if you're interested in a specific city, check them out!
Great Falls Sportsbook Options
Banking Options
With many ways to bet and win money, there have to be many ways that you can collect and deposit your money for many players. This is probably the most important part when it comes to betting because if you don't know how or where to deposit or withdrawal your money, this can lead to major confusion and problems. Sportsbooks give many different banking options that make it very easy for all players.
Debit Cards and Credit Cards are one way that you can deposit money in. Usually, when it comes to depositing money in your sportsbook account, it doesn't take that long so you have that amount ready for any games or any matches.
Cryptocurrency is another way that is very popular and is very known to be used by many players. Online sportsbooks suggest this route for the most part and this is also a smooth transaction. With some sportsbooks depending on when deposits are made, there are sometimes different promotions where you can earn extra funds to play with because of how much you deposit or plan to withdraw. These are some of the promotions that could possibly be offered when using cryptocurrency which is a big plus.
Bank wire is another option that some online sportsbooks use but most of the time it is used for withdrawal options. This is a case where having a bank wire account would be more beneficial to withdrawal rather than a deposit. Being able to withdraw a very high amount is one of the bonuses when it comes to using Bank wire.
Paypal is also a huge known banking option as well. The thing with PayPal is a lot of bettors are very comfortable with it and Paypal doesn't take long for the transaction to come through on both ends. This is huge because most bettors will feel a lot safer with the transaction moving fast. Having no extra fees required is a bonus as well. Not a lot of locations accept PayPal but be on the lookout for those who do.
There are many other banking options including Person to Person, eCheck, and others. These are the few that get the most attention and more than likely will be on all of the online sportsbooks. Double-check with your sportsbooks and that will let you know which banking options they have.

FAQ About Online Sports Betting In Montana
1) Has there ever been an arrest over online gambling or sports betting in the state of Montana?
No resident of Montana has ever faced charges for gambling online or betting on sports over the Internet in the state, and there is virtually no chance that you will ever be cited, fined, arrested, prosecuted, or jailed for doing so.
2) Can I have my money confiscated if I decide to gamble on sports?
This is a very remote possibility, though it only becomes an issue if you gamble or bet on sports at legal offshore sportsbooks while being younger than 18 (or if you set up multiple accounts at any single sports wagering website). Otherwise, your payouts are 100% guaranteed and all your transactions are safe and secure.
3) Does betting on sports online violate any federal laws?
No. None of the federal laws related to online gambling have anything to do with players - they all cover only the would-be operator of a gambling site, and these sites all operate outside of US jurisdiction.
4) Is Bovada legal in the state of Montana?
Absolutely. Bovada is legally licensed in Kahnawake, but Montana residents do not need to fear of any trouble when deciding to join up with them. In fact, no one but you will know that you are a member, as Bovada does not report to any authority in Montana (or any other agency, for that matter).
5) Where can I find the codified laws of gambling in Montana?
You can find all of Montana's current laws of gambling here.
6) How fast can I get my winnings out of my preferred online sportsbook account?
It should take no more than two weeks' time to get your winnings at most sportsbooks if you elect to receive a courier check, money order, or bank wire (the most common options). If you use a cryptocurrency like Bitcoin (or other altcoins), you will receive your winnings within just a few hours of claiming them with your sportsbook's cashier service.
7) Is my identity safe when it comes to gambling online?
Provided you use these trusted sportsbooks, yes. We have made it a point to find only the most reputable sports betting sites accepting Montana residents, and each of these top services is dedicated to protecting their customers with state-of-the-art data security and encryption.